Saturday, March 10, 2007
SEPIA MEMORIES (Page 1)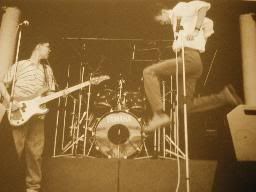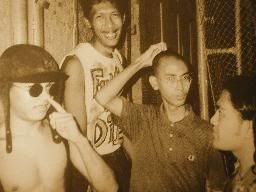 Mortal Flower /
Stompin' Ground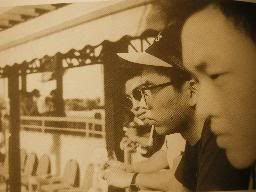 Silent Sorrow (pre-Concave Scream)/Twang Bar Kings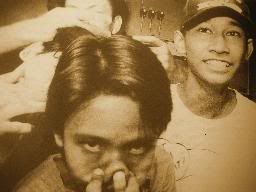 Daze (ex-Twang Bar Kings/Mortal Flower)/
Birdbrains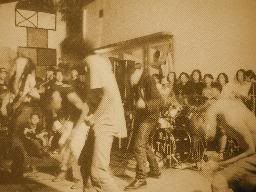 Swirling Madness/Band of Slaves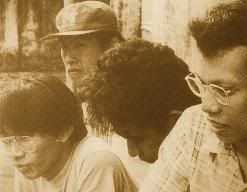 The NoNames/Rocket Scientist
--sojourner at 7:22 PM
A TRIBUTE TO OPPOSITION PARTY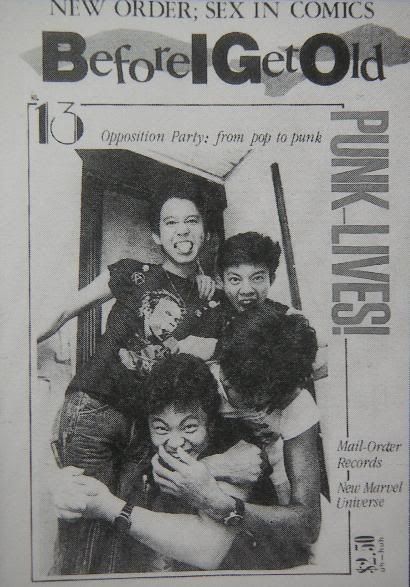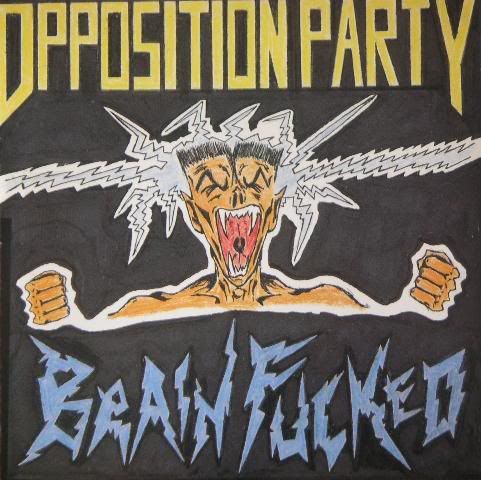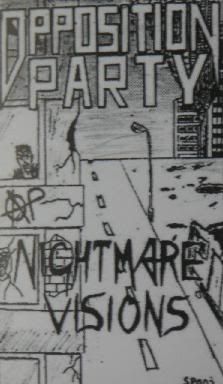 Opposition Party- Brain Fucked 7" EP 1992 and Nightmare Visions Demo 1991
What better ways to commemorate the godfathers of hardcore/punk/thrash/death metal than to pay my tribute, homage and dues to the legendary Opposition Party, which as the name implies, is as subversive as it gets. There was not much excitement on radio, even something as revolutionary as new wave (or ugh new romantics) picking up at that time, experimentation is not tantamount to explosion. The very explosive personality Francis Frightful, one dysfunctional Toa Payoh boy decided to give the local music scene a kick in the arse with some "raw fucking punk rock music" and thus the band was conceived in late 1986, consisting of Francis Frightful, Terence Terror, Willy Wanker and Vernon Vengeful. Back then there was already a staple of metallers from Mat-rock transitions, like Rusty Blade, Stukas and Nuctemeron, but Opposition Party decided to break new grounds by going all extreme and controversial (with their leathers and spikes and of course bad hairday mohawks). At Anywhere Lounge's "No Surrender" gig, on 30 May 1987 organised by BigO, they tore the stage apart with their puking hardcore punk sound with songs like "Boring Pigs" and "Masturbating with Missiles", which sets a new standard for many an aspiring skins punks thrashers and what not. Subsequently the lineup went down to three concrete forces consisting of Francis (vocals,guitars), Evan (bass, vocals), Michael (drums). Lee Piau (guitars) came on as frequent coalition member.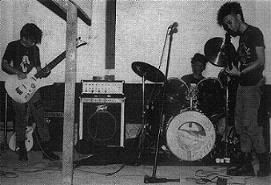 Opposition Party "No Surrender" Gig 1987

Opposition Party 1989 Lineup
I first got to know the band when I got lucky and scored a copy of their Brain Fucked EP back in poor school days. Musically, they were some of the rawest and ugliest I've heard, practically very simplistic and rumble-and-drone kind of Disorder, GBH-fueled hardcore. The EP was released in 1992 on a French label "New Wave", but the material was from the '80s. Here I find Francis making desperate calls and statements in the lyrics insert, pleading support from international punk scene as the "situation is really fucked-up in Singapore because there is no punk scene at all". It was around the turn of the '90s that they got into more speed thrashcore hybrid ala DRI, English Dogs, even Sodom and you can read about it in the reviews of "New School Rock I" compilation elsewhere in the website. By then, there is no stopping the band as their sound simply got heavier and heavier. After a couple of many more demos and compilations features, in 1995, they released a very killer death thrashcore metal cassette tape titled "Reborn" and I had the privilege to hear it. There was a couple of lineup change as they got one japanese guy Kazuo (bass), Ray Aziz (drums) and Danny Lim (guitars) where the last two guys are the most influential on the band's transition to thrashing, as they were the death metallers from Silent Sorrow. So to go with the flow they suddenly spotted long blowing locks and metal jackets. They also featured one the very killer song "Lonely Realm" in the opening scene of "Mee Pok Man", which went very great with the Geylang shotups.
*(I lost this tape and would appreciate if somebody can trade/sell me a copy).
In 1999, they came back with a four song EP titled "OP 1999" to announce their comeback followed by "EP ver 1.0" in 2000. This time round, Danny left and was replaced by good ol' Lee Piau on guitars. Now they sounded rather more brutal, though lesser on the death metal sound and more to technicality and high-speed. As of 2006, they released their very first full length CD, titled "Zombified" on Pulverised Records which showcases over 20 years of impending death.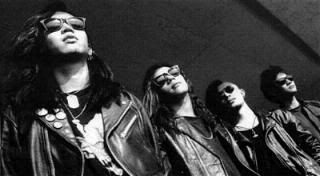 Opposition Party during Reborn-era 1995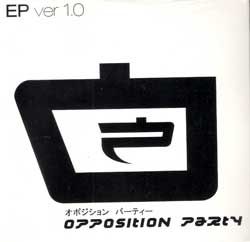 Opposition Party- EP Ver. 1.0 MCD

On many grounds I was influenced by Opposition Party. They had the unrelenting, "don't give a fuck" kind of attitude and perseverance which pretty much moulded my teenage rebellious days. I used to play in a couple of extreme death and thrash metal bands back in the past and I had always looked up to this legend as inspirations and reference. They proved that no matter how badly the world seems to be at odds against you, if you make an effort to speak, fight and/or shout out loud, to desire change, it will "eventually" not always fall into deaf ears and bend over to you. By the law of dharma that happened when they swam against the tides back in 1987 a period when everybody was ignorant, hostile and apprehensive of raw underground aggression, and they soldiered on, oblivious to complains, threats and indifferences. And they have gotten where they are today, setting a legacy that spawned hordes of eager metal, punk and hardcore devotees in the ever flourishing undergrounds of Singapore music.


Opposition Party- Chaotic Years 1989-1995 CD and Zombified CD


ANY LAST WORDS?
--sojourner at 2:06 AM
Friday, March 09, 2007
SWIRLING MADNESS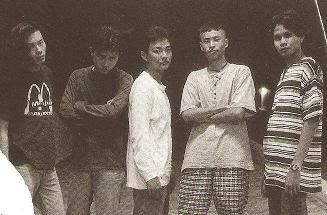 Swirling Madness circa 1993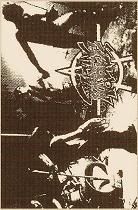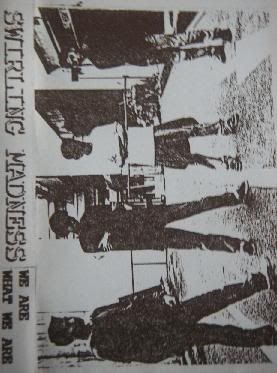 Swirling Madness- The Right To Play Demo 1992 and We Are What We Are Demo 1993
Singapore had a very colourful past when it comes to underground hardcore and metal music. Ever since the advent of Opposition Party and Anti-social Kiosk, legions of hardcore skins and punks had made their marks and impacts upon the local scene. In the heydays of hardocre with cult acts like Stomping Ground and Global Chaos, Swirling Madness came into existence along with Four Sides with their frenzied brutal hardcore anthems, taking the local scene by storm. Formed in 1990, they were originally a quartet Jacque Chong (guitar), Glenn (bass), Rizal (vocals) and Ray (drums). Jacque was a rather famous personality amongst the underground as ironically, a metaller with long hair playing straight-edged music as well as dabbling in local music journalism and media. They had several demos, titled "The Right To Play" and "We Are What We Are", with the latter seeing the departure of Jacque. Musically, they are influenced by Sick of It All, Quicksand, Sodom and Slayer. Their songs are very funny, ranging from drunken "Gimme Some JD" to misogynous "Woman", but their hardcore carried strong messages of positivism. The only negative thing is that the band was rather short-lived.
--sojourner at 11:23 PM
SUGARFLIES- And That's Why CD
(Springroll Music 1998)


Somethings happen, somethings don't. An all-female power duo like this don't come often, maybe once in a pink moon, before becoming a part of historical archiving in Rock In The Fine City. They were school girls waxing lyrical proses about relationships and lovelorn school chapters ala Teenage Textbook, a little tragic and a little wiser but they were also the very femme fatales with guitars and attitudes that is of course charismatic in their special ways. Miasma of newfound power from two Indigo Girls and bra-burning slipped into Singaporean shores and took rocking to a higher strata of Mussolini headkick. Sugarflies originally started as an outfit of three in 1994, but since then June Koh (vocals and guitars) and Stella Tan (also vocals and guitars) stuck as the original poster girls. On a sidenote, the two girls are real babe materials, having witnessed them performing and taking my breath away at calibrated palpitations. For recording purposes, they had aid and abetting from drummers and bassists which included big names like Patrick Chng, Ray Aziz, Evan Tan and Farizwan. Sugarflies to me is like a whiff of fresh air from a rather musty music scene full of self-congratulatory in-breds. They make unique and beautiful music that separates them from the copycat masses and released one of the best indie album in 1998, titled "And That's Why".

On this release, they play irresistibly charming numbers that make one reminisces the good old days (especially school days), when all is ingenuous, kinder and sincere. They colour old photographs in sepia with a generous dosage of wistful dream-mongering, from the very strings that conjure magic and with their hearts that speak passion. I can close my eyes and feel the emotive tremors in the voices which is rich, matured and wordly, yet having a subtle school girl idealism. The vocals serenade in low key, hitting the range and feel of Natalie Merchant, and even Karen Carpenter at the lowest. Musically, the girls weave wonderful melodies with their trusty guitars that make dream pop in its delivery with a garage college rock background. Think of the melodic jangles of Catatonia, meets the shimmering soundscape of Lush with a heart for nostalgic Singaporean beat and you're almost there.

The album begins with "Sunday Night", which is a wonderful starter with its calm, reflective and dreamy quality, and the guitar melodies feel like stardust. The vocalist heaves gentle sighs, a very poetic and elegant way to address regrets and loneliness. "What About", one of the best track on the album is a 70s-pop inspired oldies track that gives the same warm nostalgia that makes the knees go weak, like Linda Ronstadt's "Blue Bayou", or a Carpenters number, which easily depicts the vesperine of our lovely island in the past. "Conversation" all the way to "School Bus Song" are more upbeat numbers that evokes Blondie-spirited rocking, which completes the indie soundpicture that the band draws. In between are many stand-out tracks that have made its way to compilations and other forms of media, like "Yoshiki", "Circle Song" (which some people see as a parallel dimension to Humpback Oak's "Circling Square"), "Telegenic Babe" and "Radiostar"

Sugarflies never fail to deliver the sweets, but they didn't live long enough round the turn of the millenium and died like the sweet little thing is the fly. The passing of time is sad, because it reminds you that your memories are just an unreal figment of the past, and nothing will ever be as good as the past. You can address regrets like June Koh all over again, haunted by nostalgia but some day some time you may choose to let go and transcend past your Zahir out of samsara into a blazing future ahead. But if you are like me, still tied down by the memories of affectionate rocking from The Oddfellows, Humpback Oak and Sugarflies alike, then hang on and dream on. I have a balm from Edgar Allan Poe... Is all that we see or seem...But a dream within a dream?
--sojourner at 10:00 PM